Berner PHB3001 Description
patioSchwank 2300
Model 022-PHB3001 - Overhead Luminous - 23,000 BTU
Allow 14-21 working days for delivery
The patioSchwank Series 2300 is the perfect solution for outdoor spaces where radiant heat needs to be directed at specific areas and floor space is at a premium.
Features & Benefits
Use when radiant heat needs to be directed at specific areas
Use when there are limited mounting points for heaters
When Floor space is at a premium
Available in aluminized stainless steel or stainless steel
Comfort level increase of up to 15 degree F or more, depending on local weather conditions
Heats up in as little as two minutes
More energy efficient than competing models
Remote central control of heaters
Saves valuable floor space by being located overhead or on perimeter of patio
Unobtrusively mounted out of patron's reach
For Your Information
Heaters can be control by either central control panel or remote control
Central control panels for 2300 series luminous heaters require 24 volt transformer to power the panel switch(es), which in turn power the heater(s)
Transformers are sized to suit total number of heaters controlled by the panel (panel options to control up to 4 heaters or up to 8 heaters)
Transformers are sized as follows:
40 VA transformer required for a single heater
For multiple heaters, first heater transformer sized at 40 VA and each additional heater transformer sized at 30 VA
For remote control of heaters, a receiver kit is required for each heater. The receiver kit includes receiver, wires, and instructions for field installation
The remote control handset has four "on/off" programmable buttons. Each button can be programmed to control an individual heater OR any number of heaters in a zone
Again, for remote control, transformers to be sized for all heaters installed on the patio (40 VA for the first heater and 30 VA for each additional heater)
*Note*
Contact customer service for patio coverage accommodation and installation information
Budget or patio size is not suitable for Series 1100
Patio Plus by Berner Luminous Heater, LP or NG gas, overhead perimeter mount system, 23,000 BTU, 30-1/2" length. Contact customer service for patio coverage accomodation. Please allow 14 to 21 working days for delivery.
Berner PHB3001 Specifications
Berner PHB3001 Reviews
Berner PHB3001 Comparable Products
Product Accessories
T&S Brass HG-2C-24 Safe-T-Link Gas Connector Hose, 1/2 in NPT x 24 in Long, Male to Male
T&S Brass (HG-2C-24)
SKU: 064-HG2C24
$58.47
T&S Brass HG-4C-24 24-in Gas Connector Hose, 1/2-in NPT, Male to Quick Disconnect
T&S Brass (HG-4C-24)
SKU: 064-HG4C24
$85.71
Comparable Products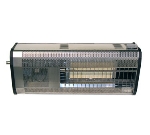 Berner PHB3001LP 30.5-in Overhead Mount Patio Heater, Aluminum, LP
Berner (PHB3001LP)
SKU: 022-PHB3001LP
$1,531.20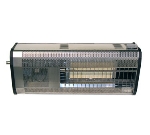 Berner PHB3001NG 30.5-in Overhead Mount Patio Heater, Aluminum, NG
Berner (PHB3001NG)
SKU: 022-PHB3001NG
$1,531.20