BUNN-O-Matic 38700.0002 Customer Reviews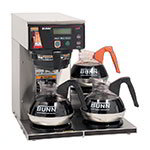 BUNN-O-Matic (38700.0002)
Product Code: 021-387000002

$537.60
Good discount purchase way lower than Mfg. prices.
Every day for a few and many on weekends
Bought this coffee maker for a group of men that drinks a lot of coffee. Very easy to use and makes a pot of coffee in seconds. I don't drink coffee but the men tell me that coffee taste better, they are a very happy group of men now.
We purchased the Axiom Coffee maker to provide coffee and hot water for approximately 35 persons daily. (It replaces two 12 cup (home use)coffee makers we purchased locally.) Positives: -Fast Brew Time (compared to 12 cup home use coffee makers) -Burner shutoff programmable based on time -Hot water available instantly -Compact and takes up minimal counter space -Easy to clean -Programmable energy saving feature Negatives: -Wish all three burners had sensors to shut them off before baking the coffee to pot. -The unit makes a noise (not excessive) while metering the water into the unit. We made a good choice.