BUNN-O-Matic 35400.0003 Customer Reviews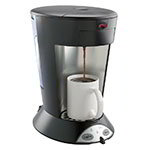 BUNN-O-Matic (35400.0003)
Product Code: 021-354000003

$261.45
I've owned 6 of these pots between my home and cabin. After a couple years, small components wear out which requires we buy another one. We have a Kurig too, but prefer the Bunn Pod coffee pot - better tasting pod coffee. Katom always has the best price.
what can i say its a bunn. good product would buy again!
The best one cup out there that actually makes the coffee to strength.
I love this machine. It is easy to use, quick, uses large size pods, and allows for different coffee sizes. I use this machine everyday and make a large 22 ounce cup. My first machine lasted for several years before giving up the ghost. I had to have another and look forward to many more years of faithful service.
It was a gift.We have owned one at least 5 years. Had trouble with it. Sent to repair as under warranty. This is our third Bunn pod brewer. Like it very much. Now lookiing to replace.
I usually only drink one cup of coffee in the morning. This thing is great. Fast, good coffee, and it looks great on the kitchen counter. I don't like the sleep mode, because I have to wait about a min every morning for it to heat up, but it is still much faster than the B&D pod maker this replaced. No leaks, or problems with this. Just great coffee.