BUNN-O-Matic 33200.0010 Customer Reviews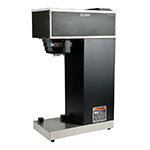 BUNN-O-Matic (33200.0010)
Product Code: 021-332000010

$201.40
We use the airpot and brewer for our church's hospitality and for out classes, and meetings. Because it is so portable, it's perfect for all of our needs.
We use this product every day. Coffee stays hot all day. Great to use during training classes and for other in-house events. Purchased an extra carafe to have coffee available all day. Very easy to use and coffee is brewed within minutes. Great value.
This product is being used in our office, it brews in less than 5 minutes.
We use it to make great coffee for the people at our church.