BUNN-O-Matic 32130.0000 Customer Reviews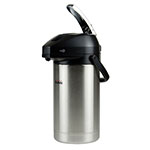 BUNN-O-Matic (32130.0000)
Product Code: 021-321300000

$41.94
We purchased a new Bunn air pot coffee machine and 5 3.0 liter air pots for our community association dinners. The coffee stayed very hot and the pots were well recieved
I purchased retail store Coffee Thermos,s for years and allthough they may cost less, they are no compairson. This Bunn Airport coffee Thermos keeps my coffee wonderfully hot all day. I,ll highly recommend your products to all my friends. I,m going to be buying more from your Catalog you sent. Thanks
These are fabulous! Attractive and functional!
This coffee air-pot keeps coffee hot for a very long time & is reasonably priced, I have not found a down side to the air-pot yet.
I recently used this product to put coffee. I filled it up with fresh hot coffee about 6 am and 10 hours later the coffee was just as hot and fresh as it was when I first poured it into the airpot. I would recommend it to anyone who would like to keep coffee hot for hours.
This product is great, our coffee machine brews into this carafe, the coffee stays hot all day.
Keeps coffee hot for hours.
Works so well I bought another one. Use for both hot and cold drinks, no lasting odors from different drinks. Half the price of another unit bought earlier and works just as well.