BUNN-O-Matic 13300.0001 Customer Reviews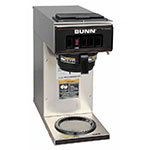 BUNN-O-Matic (13300.0001)
Product Code: 021-133000001

$225.75
Use it for my home. I got tired of "cheap" made coffee makers found in department stores. Wanted coffee that tasted similar to a good restaurant. I use poland springs water or better for brewing to minimize any water deposit build up.
We should have bought this a long time ago...We've been replacing our coffeemakers every 6mos-1yr. So we finally decided on this after reading reviews. Coffee tastes great and it only takes seconds to make. You have to have a deep counterspace for this though so measure your space before you buy. Its also nice that it came w/ the pitcher and some starter filters. I ordered more filters and of course the decanter---KATOM has excellent customer service too. I ordered on a tuesday and received it on friday. So we were able to enjoy really smooth and flavorful coffee right away.
We got this coffee maker for the office to replace an ancient bunn. It has an updated, sleek design, and best of all it makes consistently good coffee. Pretty easy to set up. The only thing that really isn't an issue at all we are having is that you can smell the heater element especially when not making coffee (as the fragrance of that heavenly brew is not present in the air, so then it just smells like a heater is on in our breakroom that is all). Really not an issue as hot water on standby is a good thing. Overall I would say it is a good investment. Very durable and consistent.
I always wanted to get a high in coffee maker and im soo glad I picked this one up!! Looks and works great! Bunn really has nice products.. Anyone thinking of picking one up?? Order 2 or 5!! Give them out at x-mas!! Youll find it will be your last coffee maker you ever buy...
Makes perfect tasting coffee all day long. I would add, no Brew Switch. Has a Warmer Switch only. I will contact Bunn to order a Switch. Manual is excellent. Has in depth Trouble Shooting and a easy to read wiring diagram. No Mice type in this Manual. For the Price from KaTom, you can not go wrong.
No more Stuff-Mart coffee makers! I didn't realize until doing a little research that for just a little more cash than the pedestrian model of Cuisinart, I could have a coffee maker just like my little diner down the street that always pours hot and delicious coffee. No, it's not exactly the decor of the kitchen, but it looks tough and makes a statement--which is to heck with the cheapo plastic brewers, I want good coffee hot and fast and I'll use whatever it takes to make it! I did get the stainless decanter, which makes it look a little less like it belongs on the back counter of Waffle House. I was at first concerned about the energy consumption needed to keep the reservoir of water hot, but the thing must be very well insulated, because I never hear the heater come on unless I'm making a fresh pot. I may put it on a timer, though, to kick on in the a.m. The coffe hitting the pot, measured with a meat thermometer, is 195F, ahh, just the way I like it, and it's done in three minutes flat. Tastes great and no more microwaving my Mr. Coffee coffee! Now my coffee stays hot in my travel cup for the full 30 minute ride to work! The great prices at Katom and the unbelievable quality of my Bunn help make getting up every morning and making a pot of coffee a truly enjoyable experience. Love it! Made in USA and/or Canada is added bonus!
If you add up all the cheap coffee makers we have purchased over the years, buying a commercial quality coffee maker is cheaper in the long run. Cheap coffee makers last about 6-12 months. The home version Bunn coffee maker, that was made of plastic, lasted 6-7 years. This one is made of stainless steel and looks like it should last us a lifetime. And you will be amazed at how much better your coffee tastes. Even the Bunn home brewer is no comparison to this VP-17.
I bought this for my morning coffee. I have bought just about every automatic coffee maker on the market for the past 25 years at 40 bucks and up to 80 bucks at the rate of 1 a year, due to some silly failure in their design. Not one has lasted more than that 1 year time frame. I finally got frustrated with all that junk from the major automatic coffee maker companies and spent about [$] and got a new BUNN VP17 Stainless Steel Commercial Coffee Brewer for the home from KATOM. It is hands down the very best kitchen investment I have ever made. All I can say is it's RELIABLE, Makes a full 12 cups of the best homebrew coffee I have ever had, and It's a perfect compliment to my other stainless appliances. It fit perfectly on the counter and under the cabinets with a little room to spare, It makes a full pot of seriously hot coffee in under 3 minutes. For the home coffee maker this machine is the last one you will buy, It's that well made, and if something does happen, parts are available easily and inexpensive. Not much to go wrong with them anyway. It's a BUNN Commercial coffee maker, buy one, you won't regret it for the long term