BUNN-O-Matic 12950.0211 Customer Reviews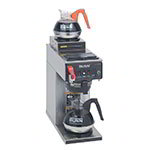 BUNN-O-Matic (12950.0211)
Product Code: 021-129500211

$509.25
Just the right size and with 2 warmers using less than 15 amps. Made 4 pots wihtin min with no issues the other night.
Very dependable and SO easy to use. Worth every penny!
Everyone knows that this is a great product. Used models in unknown condition fetch top-dollar. The bonus, here, is getting a good price on a brand new unit that will probably be in use long after my tenure ends.