BUNN-O-Matic 06450.0004 Customer Reviews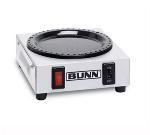 BUNN-O-Matic (06450.0004)
Product Code: 021-064500004

$35.70
For those who need both decaf and regular coffee on some days. This unit goes great with my VP-17 Bunn coffee brewer. Heats up quickly, easy to keep clean, solid and looks great with the Bunn 12 cup decanter sitting on it. Typical high end Bunn quality. Katom has the best price and fast shipping.
I just couldn't find any electric coffe mug warmers that would keep the coffee in my mug HOT. This is the same model that you will find in restaurants. It's bigger, but if you have the room for it on your desk it really keeps the coffee in you mug HOT! It's made for a glass pot from a coffee maker but it works GREAT with a mug. The plate is HOT - the stainless steel body is very, VERY warm. Be careful.
Will allow us to keep beverages warm in conference room that has no coffee maker. It stores nicely while not in use and while in use does not take up much counter space.
If you have been looking for the very Top-of-the-Line coffee cup warmer, you found it! This is classic BUNN-O-MATIC quality - the very best. Because of the price I was expecting something of much lower quality, was I ever suprised. The Bunn warmer is built like a tank. Heavy gauge brushed stainless steel. Heavy duty commercial three prong 6 foot cord. Exceptional high quality. The holding temperature is "exactly" correct. I've tried several types of cups, some very thick, and the temperature stays the same. It's obvious this product will be trouble free for many years. I've just purchased another one and I'm planning to get one for each room I take my coffee to. NOTE: I found out that for a higher level of security they do NOT keep your card number. A lot of internet companies do. I will do much more shopping at KaTom. Also, [@]'s web site brought me right here. Very excellent shopping experience . Thank you! Dennis Vance Bowen, Aurora, CO 80014
An absolute necessity as we have frequent company! Some like Caffeine and some de-caffinated, so I make both pots of coffee and having this warmer keeps everyone happy with hot coffee available!
Bunn products always top of the line products.