Polar Ware 601BP Customer Reviews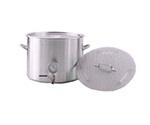 Polar Ware (601BP)
Product Code: 002-601BP

$225.43

Great price for a 15 gallon polarware kettle,thermometer and ball lock valve included.......Sweet deal!
Great pot for full boil 10 gal. all grain batches. Easy to clean and the lid hook works great.
We use it for BBQ sauce. The faucet works wonderful! Heated well, did an excellent job!! PERFECT!