Polar Ware 361BP Customer Reviews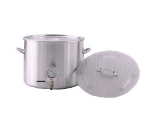 Polar Ware (361BP)
Product Code: 002-361BP

$183.81

Top quality brew pot for boiling 5 gallon batches. Ultra fast service/shipping from Katom.
Excellent beer brewing pot with large capacity. Easy to clean, durable construction and made in the USA. It would be improved if it had volume markers in it but I marked a stainless steel spoon with volumes that specifically apply to this pot so it's not a big issue. It would be nice to include a notch in the lid for a wort chiller but not a deal breaker. Love the quality, love the welded faucet attachment and it heats evenly on a Bayou cooker.
Bought this pot to boil down small amounts of maple syrup over an electric stove. Pot is working fine for this. Ordered the thermometer for it so I could monitor boiling temperature. It is a little slow because it was not designed for this purpose but it is working fine. Delivery time was excellent. Quality is good and the included cover is a plus.
Best for high volume cooking or brewing standard 5 gal batches of beer (which start with 7+ gal's) Works well as intended. Recommend highly.
I had searched many sights looking for a good quality pot to use in the Home brewing of beer. This was by far the best quality and had the useful features I was looking for to make the brewing process simpler. Add that benefit to the price and it was a deal I couldn't pass up. Katom was great to work with.
This is a commercial grade kettle built to last a life time and beyond. The quality is self evident when you have one in your hands. I believe it is also 100% American made. The Polarware kettles are competitively priced and an excellent value. I would not hesitate to buy another. Absolutely no rerets whatsoever.
I use this awesome heavy duty kettle to brew 5 to 6 gallon batches of beer. It is actually 42 quarts. This is the perfect size to safely boil your full volume of wort without having to worry about boil-overs. It has 1/2" female threads on the inside so you can attach a pick-up tube or a screen. The included 1/2" ball valve can even be disassembled for a thorough cleaning.
I plan on using this for home brewing. The ten gallon capacity is more than enough to do full boils for five gallon batches. This is a big sturdy pot, and the valve and temperature port are priceless. The valve port that is welded in also has a female thread on the inside of the pot that can be used for a pick up tube.
Even though this is a "Brew Pot" for making beer, I use it as a finisher/canner in maple syrup production. With the optional thermometer, it is the bomb!